Using the Backspace key is the Back button on the web browser
Note: Please read the article carefully before proceeding! If in the process of using you encounter any errors, such as broken download links, slow loading blog, or unable to access a certain page on the blog ... then please inform me here. Thanks!
Backspace
is an important key on a computer keyboard, it can help you erase the character that precedes it if you accidentally type, or type the wrong character.
In addition, the Backspace key has many other useful functions, which is typical of using this key to return to the previous page in browsers.
I found this feature quite useful, but unfortunately this feature has been completely removed on Google Chrome and the new Edge Chromium browser.
To ensure that no data is lost if someone uses the wrong Backspace, web browser developers decided to turn it off.
However, we can still activate and reuse it as usual with the help of a utility developed by Google - it's called
Go Back With BackSpace
.
And of course, in this article, I will show you how to activate and use the BackSpace key on the web browser Microsoft Edge and Google Chrome ... so you can use it to make the Back button. before) offline!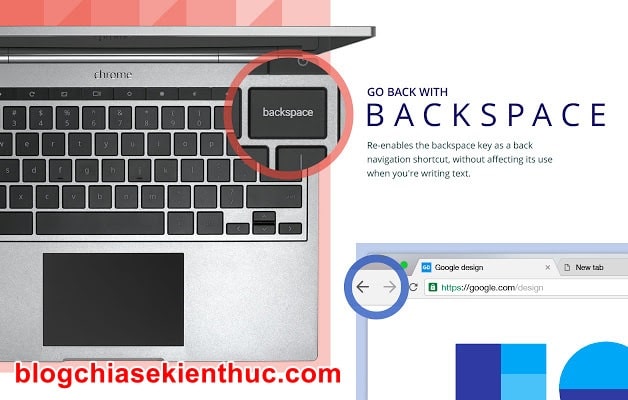 Read more:
Go Back With BackSpace
is a free extension on the Chrome Web Store.
To install it in your web browser, simply visit the link below => and select
Thêm vào Chrome
to install for Chrome, Edge, Opera and other Chromium core browsers.
Link download Go Back With BackSpace:
Here
!

After installing the extension successfully, you will see the icon appear on the browser toolbar.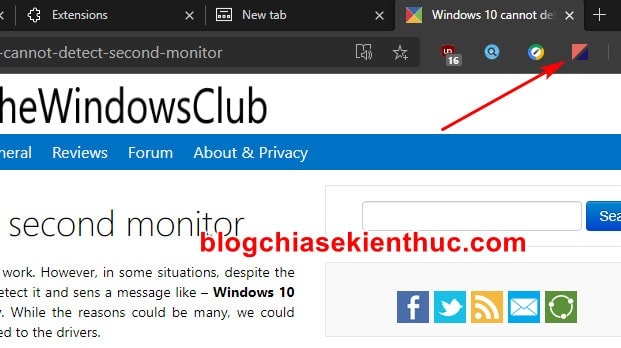 Now try different websites on the same tab, then press the key
BackSpace
On the keyboard, the browser will automatically return to the previous page.
And of course when you edit the text, search the search box…. it will still perform the function to delete the character, not return to the previous website, so you can safely use it. Unless only you click on the tab => and press the key
Backspace
it will only return to the previous page.
If you want to turn off this feature on a certain website, then first go to that website.
For example, take facebook.com for example => and then click the icon of
Back With BackSpace
=> then click the button
Disable on this page
blue is okay.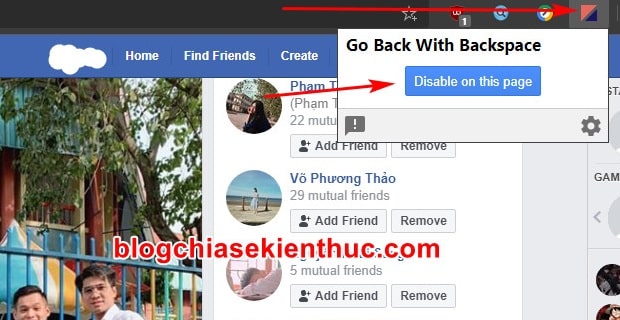 But I think it should only be used when you turn off on a few websites only, but if you want to add more sites then doing so will take quite a bit of your time.
To save time, right-click on the utility => and select
Extension Options
to open the gadget's settings.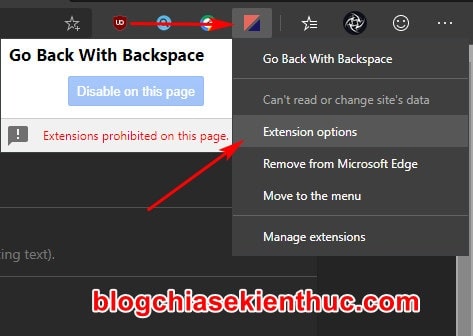 In the settings you will see 3 items:
Backspace should never go back on these pages: This is a list of websites that you want this utility to not work, more specifically the return to page feature before clicking the button Backspace will not work. Enter the website domain you want to turn off, one address per line.
Backspace should not go back in applets (Flash, Java, PDF, and certain chat tools): Tick ​​this option if you want the Backspace functionality to not work when using Adobe Flash, PDF, etc.
Even in an applet, backspace should go back on these pages: The websites you want Backspace to work with when you are using Adobe Flash, PDF, etc.
Enter the list of websites you want in the corresponding box, saving you much time.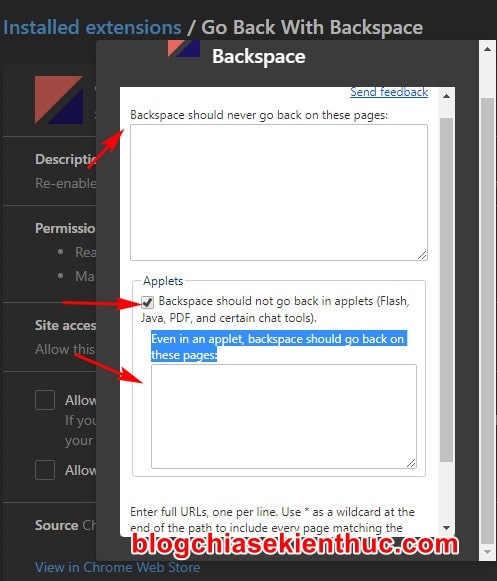 Epilogue
Yes, so I have to guide you how
Activate and use the Backspace key as the Back button on the web browser
Alright then. Quite useful, isn't it 😀
In fact, Backspace's Back function was removed from you in October 2018 update for Windows 10 because of the risk of user data loss, Google did the same in its Chrome 52 update. But with this method, you can completely reactivate if you find it useful to you.
Hopefully with this utility you will be able to use the Backspace key as usual. Good luck !
CTV: Nguyen Thanh Tung - Blogchiasekienthuc.com
Note:
Was this article helpful to you? Do not forget to rate the article, like and share it with your friends and relatives!
About My name is Nguyen Manh Cuong. I was born in a poor village in Ba Vi district, HA NOI province - windy and sunny land. Currently. https://www.insurancefinances.com/. Mr Cuong.