Note: Please read the article carefully before proceeding! If in the process of using you encounter any errors, such as broken download links, slow loading blog, or unable to access a certain page on the blog ... then please inform me here. Thanks!
Following the success and success of the Redmi K20 and Redmi K20 Pro, the Redmi subsidiary launched the Redmi K30 4G and 5G, and it became the first mid-range device to feature the Snapdragon 765G chip. The latest, built-in 5G modem and will be the cheapest 5G device on the market today.
So what does this Redmi K30 5G phone have? This article we will dig deeper!
Read more:
#first. Hardware of Redmi K30 5G
It has IPS LCD screen, screen size is 6.67 inch, FullHD + resolution with refresh rate up to 120Hz.
The screen uses a punched design for the front two cameras, similar to Samsung's Galaxy S10 +
It has up to 4 rear cameras, including 64MP main camera sensor, 8MP wide-angle camera, 5MP macro camera and 2MP depth camera.
The 4G version will have a 2MP macro camera, not 5MP like the 5G one. The front dual camera cluster includes a 20MP main sensor and a 2MP depth camera.
In addition, the device will support the use of 2 sims, support 5G technology with 5G version, use USB Type C charging port, and remove the 3.5mm jack.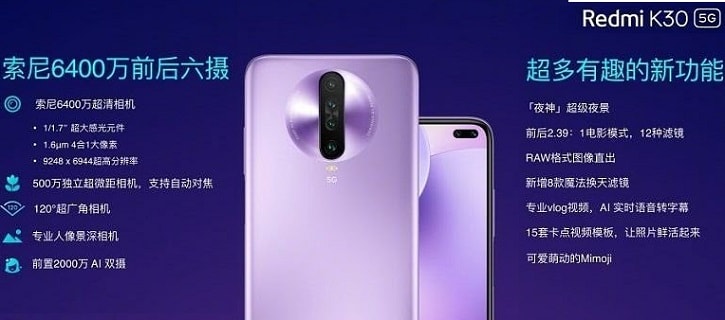 #2. The design of the Redmi K30 5G
The device will have a glass back, a metallic discoloration effect, and a camera cluster placed vertically in a circle like the Huawei Mate 30.
The front camera cluster is located in the left corner of the screen, is longer and the two sensors are also more visible than the Samsung Galaxy S10 Plus.
Instead of placing an optical fingerprint sensor under the screen like the Redmi K20, the Redmi K30 5G brings it to the side like Sony. This is quite confusing for Redmi.
In terms of design, size, screen, material of 5G and 4G versions will be identical. May vary in colors upon release. There will be 4 primary colors
White
,
blue purple
,
Red pink
and
purple
.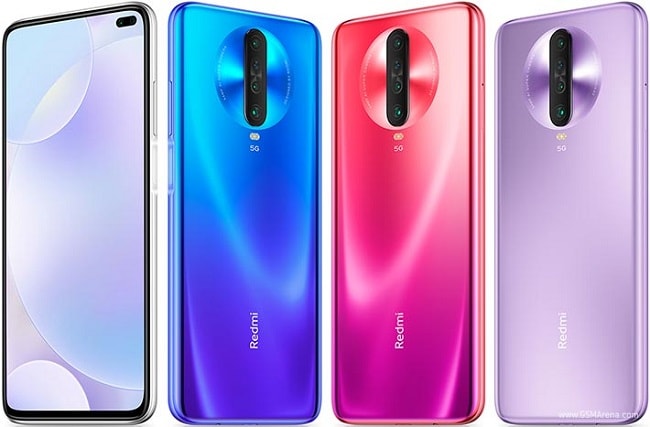 # 3. Configuration of the Redmi K30 5G
As mentioned above, the 5G version will use the Snapdragon 765G chip, and the 4G version will have the Snapdragon 730G chip.
There are 4 memory options for both devices: 6GB RAM -64GB ROM, 6GB RAM -128GB ROM, 8GB RAM -128GB ROM and 8GB RAM -256GB ROM
The battery is 4500mAh, supports 30W fast charging technology for 5G version, and 25W for 4G version.
# 4. Software / OS of the machine
The device will use Android 10 operating system, with its customized MIUI 11 interface.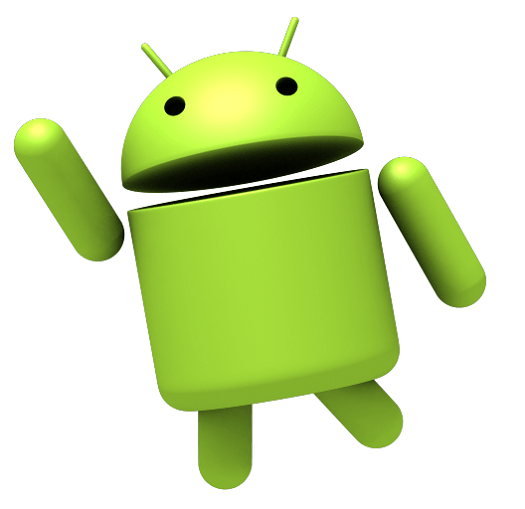 # 5. Review of the Redmi K30 5G
In addition to popularizing 5G technology for users, with the price of Redmi K30 5G from only 6.6 million VND, these two devices are also aimed at users who play games with both 730G and 765G chips. Light upgrade for gaming from 2 platform chipsets 730 and 765.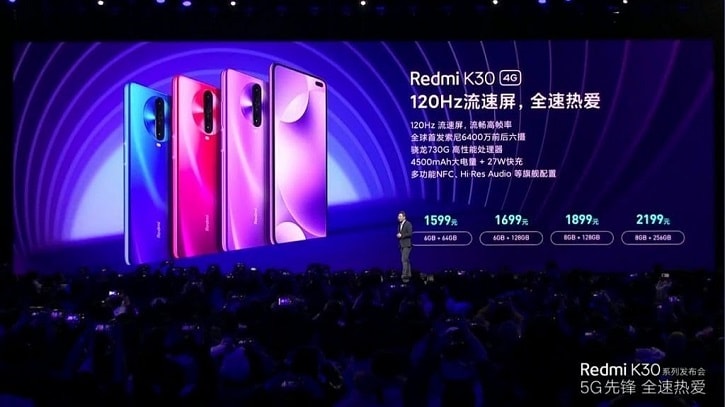 There are a number of things that are not right about this machine, such as:
Using perforated screen design: I prefer a non-defective screen like on the Redmi K20, with a more recessed camera design.
USB 2.0 Protocol: Going against the times completely, when the whole world has switched to 3.0 for a long time, this is a rather silly step for Redmi.
Naturally, for ordinary users who only charge the device, this does not seem to be a problem. But for those who often Unlock Bootloader or Up rom, this is quite annoying.
It is possible that the Redmi K30 Pro with Snapdragon 865 chip will be available early next year. This means that the Redmi K30 Series will easily become national phones in 2020 in our country market.
No information on the market will sell genuine this machine, but with this price, the laptop is not too problematic. Because it's quite cheap already!
What do you think about this device? Please leave a comment about your perspective at the bottom of this article. Thank you!
CTV: Nam Hoang - Blogchiasekienthuc.com
Note:
Was this article helpful to you? Do not forget to rate the article, like and share it with your friends and relatives!