IsMyHdOK Check the read,write speed of computer hard drive
Note: Please read the article carefully before proceeding! If in the process of using you encounter any errors, such as broken download links, slow loading blog, or unable to access a certain page on the blog ... then please inform me here. Thanks!
Computer hard drive is an essential and indispensable component in a PC, Laptop ...
Hard drives contain the operating system we use, allowing us to store data on them and just need a hard drive failure, or failure, as if our data also followed.
Therefore, it is extremely necessary to check the hard drive regularly for errors.
Windows 10 operating system will not warn users when the hard drive is still active, so in this article, I would like to share with you a software to help detect hard drive errors, check the read / hard drive recorder and lots more!
Read more:
I. Check the read / write speed of the hard drive with IsMyHdOK software
Just a bit: IsMyHdOK is a free software on the Windows operating system, allowing users to check the status of your hard drive (HDD and SSD), along with many other useful tools as well.
And it has also received a lot of positive feedback from users, which shows that the software works quite well.
Perform:
+ Step 1:
First, visit the download page of IsMyHdOK
here
=> and select the appropriate version to download this software.
Note: The above ZIP file is for both 32-bit and 64-bit Windows, while the latter is only available for 64-bit Windows. And if you do not know what platform you are using Windows, then see the article how to see the operating system is 32-bit or 64-bit okay.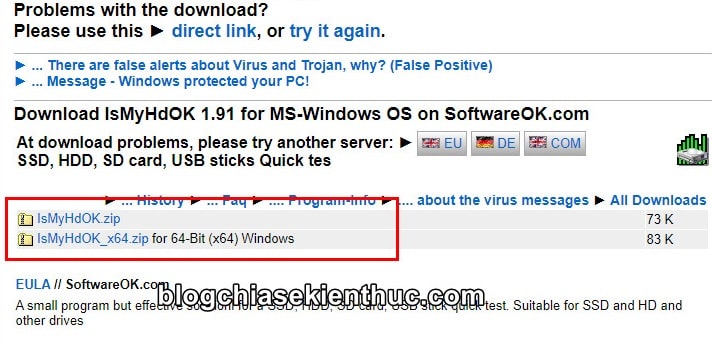 + Step 2:
Download => extract the ZIP file and run it
IsMyHdOK_x64.exe
up. If you see the screen
Windows Defender Smartscreen
The warning you choose is
More detail
... =>
Run anyway
is to be.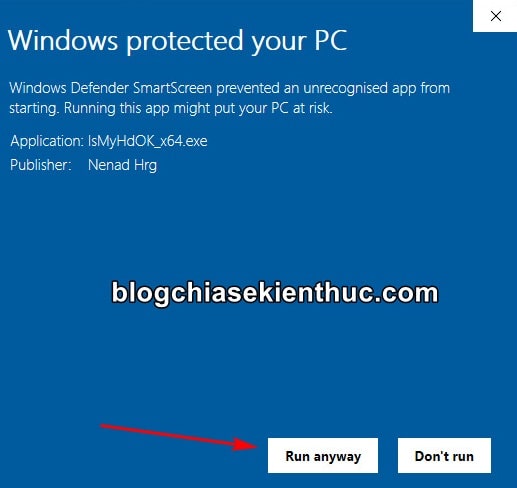 + Step 3:
Now run the file
**.exe
first up, you will see the terms of use of the software as shown below.
To choose
I accept the agreement
=> and select
Next
is that you can start using the software already.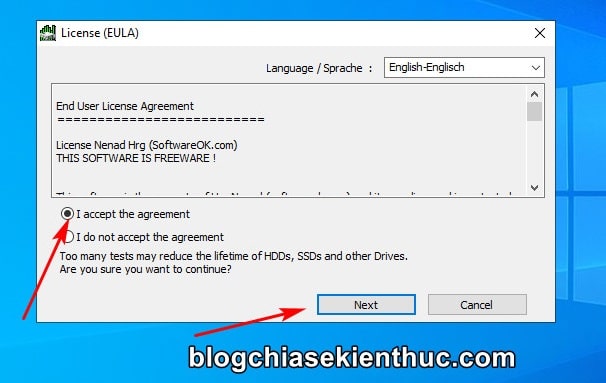 #first. Check Read / Write Hard drive with IsMyHdOK
Open the software, you will see the interface as shown below, there will be 4 types of tests for you to choose, namely:
Quick Test (~ 15s)
Short test (~ 30s)
Long test (~ 60s)
And finally, Very Long Test (~ 4 mins).
=> You click
Short test (~15s)
just below the selection of the hard drive to choose again accordingly.
If you want to test carefully, you can choose the type Very Long Test for the most accurate results. Of course the analysis software time will be longer than the rest of the options (estimated time is 4 minutes).
If you have many other hard drives, click it to select the hard drive you want to check. Here I use HDD to test and select the type of test is
Quick Test (~15s)
=> Finished press
Start
to start the testing process and wait for the results.
And the results will be displayed right below, you research and give reviews for your hard drive, your hard drive is already quite bad,
Read / Write
fairly low: D.
#2. Support computer screen capture feature
Actually, I found this function a bit redundant but it's okay, the developer has very thoughtfully included in the screen capture software to facilitate the photography and for users who do not know how to perform can also capture the link. Diagnostics results for your hard drive.
Taking pictures makes it easier for you to share your test results with your friends, or someone you ask from the hard drive.
You clicked
IsMyHdOK
On the navigation bar, there are two options for you:
Screenshot to File: Take photos and save to File.
Screenshot to MS-Paint: Take a picture and put into MS Paint to edit.
=> You choose the features you want.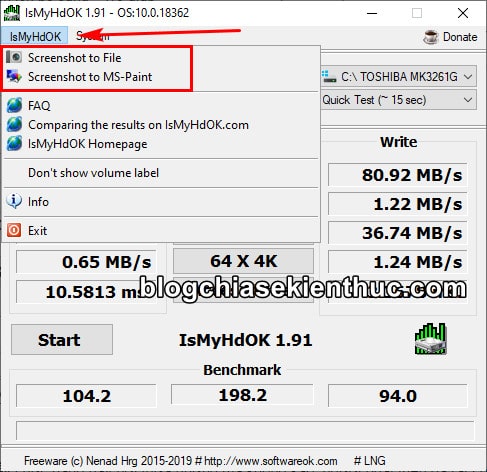 # 3. Other tools are available on IsMyHdOK
As I said at the beginning of this article, this software does not only have functions
Hard drive health check
Not only that, IsMyHdOK also provides many other useful tools.
To be able to use, please click
System
On the navigation bar, at this menu, you will be able to access tools such as Task Manager, Disk Management, Disk Optimization,….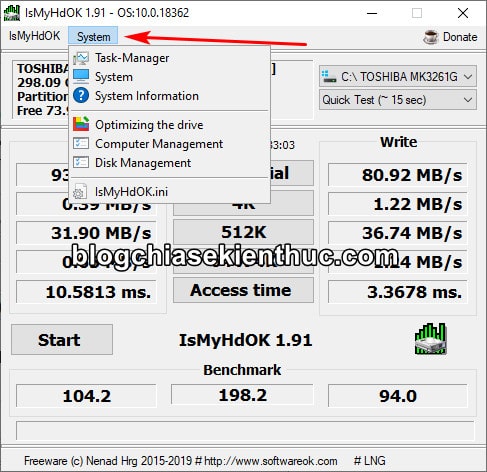 II. Epilogue
Okay, so I have just detailed instructions for you how to use
software to check the read / write speed of the computer hard drive
It's called MyMyHdOK.
A small software, the size is only the size of a low-quality image, but it is very useful, can you?
monitor hard drive health status
His backup plan to prevent data loss when the hard drive accidentally fails, or suddenly dies.
If you find it interesting, don't forget to share this article with your friends and everyone. Good luck !
CTV: Nguyen Thanh Tung - Blogchiasekienthuc.com
Note:
Was this article helpful to you? Do not forget to rate the article, like and share it with your friends and relatives!
About My name is Nguyen Manh Cuong. I was born in a poor village in Ba Vi district, HA NOI province - windy and sunny land. Currently. https://www.insurancefinances.com/. Mr Cuong.