BR4 is a new SMG weapon added to the list of weapons in Season 10 of Call of . This weapon has a high rate of fire for an SMG and low recoil for better control. That is the reason why it is loved by many people. The article below will guide you how to unlock CBR4 COD Mobile weapons for free.
Shots to the head often reduce the amount of ammo needed to destroy the enemy. The CBR4 is a bullpup submachine gun best in mid- and close-range combats, knocking out enemies in just 4 to 5 shots depending on range. Players can unlock CBR4 weapons in Call of Duty Mobile by completing the CBR4 Supremacy Seasonal event .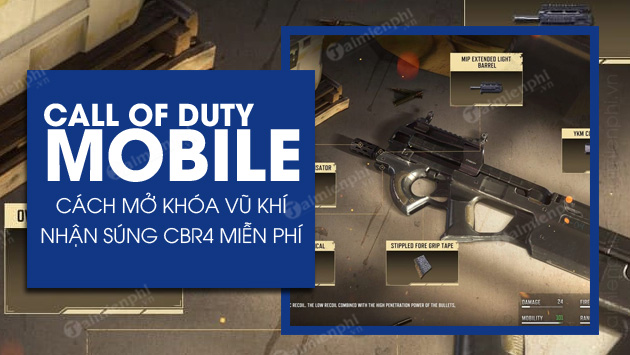 Instructions to get CBR4 in Call of Duty Mobile for free
How To Unlock CBR4 Weapons For Free In COD Mobile
To unlock this SMG, the player will have to complete all the missions listed in the "CBR4 Supremacy" seasonal event. Players will earn more rewards including guns. There are a total of 7 missions in this seasonal event, although only 6 are required to be completed to unlock CBR4 to receive the COD Mobile weapon for free.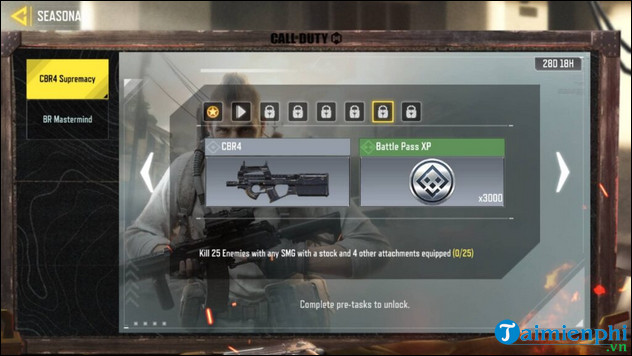 - Play 5 MP matches: Get 5x Weapon XP Cards, 1000x Battle Pass XP
- Kill 20 enemies with any SMG: Get 200x Credits, 1000x Battle Pass XP
- 10x Berserker in MP battles: Get Shaded Weaponry, 1000x Battle Pass XP
- Kill 30 enemies with system-recommended SMG: Get Head Case (Sticker), 2000x Battle Pass XP
- Kill 20 enemies with SMG with Agile perk: Get J358 Green Marble, 2000x Battle Pass XP
- Kill 25 enemies with stock equipped SMGs and 4 other attachments: Get CBR4, 3000x Battle Pass XP
- Win 5 MP battles with CBR4: M21 EBR Green Mable, 3000x Battle Pass XP
- Ultimate Mission and the seventh mission is a bonus and will give the player some bonus rewards during the event.
How To Equip CBR4 COD Mobile Weapons
After unlocking the new SMG, the player can use it immediately after it is equipped.
- Step 1: From the main screen, go to the Loadout section located at the bottom.
- Step 2: Choose the main weapon . Click on SMG scroll left to find CBR4 unlocked. Quickly equip a weapon and test it out in different modes.
- Step 3: To add this SMG to your Battle Royale section , go to the Loadout section and select Battle Royale on the left side of the screen.
- Step 4: Next, you have to add CBR4 weapons to Customize Airdrop Weapons .