Clipboard History Pro: Manage Copy and Paste content on web browsers
Note: Please read the article carefully before proceeding! If in the process of using you encounter any errors, such as broken download links, slow loading blog, or unable to access a certain page on the blog ... then please inform me here. Thanks!
Clipboard History Pro: A utility to synchronize data in the clipboard, helping you work more effectively with Clipboard.
Clipboard is really a great feature to help you can copy, cut and paste data more easily. On Windows 10, there is a Clipboard History feature that allows you to sync content in the clipboard through your Microsoft account, I also have a detailed article about this feature on the blog, please review it at the link above. !
In this article, I will introduce you to a utility on Google Chrome that has the same function, helping you to synchronize data in Clipboard with many different devices and web browsers.
Read more:
#first. About Clipboard History Pro on Chrome
Clipboard History Pro is a 100% free extension on the Google Chrome web browser, and web browsers use Google's Chromium kernel. It helps you work more efficiently than
Clipboard feature
Windows 10 default.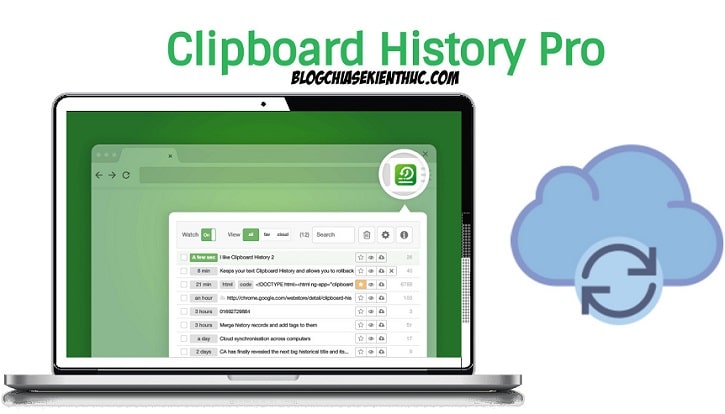 In addition, Clipboard History Pro utility is also equipped with other special features such as:
Support to save all content in clipboard when you copy: Record all sentences, paragraphs, notes, links, etc. that you have made copy earlier. Although it is only a utility on Google Chrome, you can collect the copied content in other software on Windows.
Support Right-click Menu: You can quickly access the clipboard via right-click menu => and of course you can quickly access and paste the text, link link .... recently.
Map clipboard content set: Just log in to your Google account (the account you are logged into on Chrome to install this extension), no matter what device you use, the content will be used. Sync in Clipboard.
Safe, confidential high: All data is stored locally in your computer, using a browser database (IndexedDB).
Ability to Backup & restore: You can export the data into a JSON, CSV, or text file ... and then you can recover it any time you want.
Do not delete content : Clipboard History Pro will not delete texts, links that are marked as important by the user. This is a small function, but I think it is extremely useful, saving the effort to recover.
A few features other: The utility also supports tagging for items, merging text, saving link URLs, etc.
#2. How to install Clipboard History Pro utility
Access to
this link
to install the extension into your web browser.
Note again that it only supports Google Chrome and Chromium-based browsers such as Brave, Opera, Yandex, Coc Coc, Microsoft Edge Chromium, etc.
You click the button
Thêm vào Chrome
to make extension settings.

For this utility to work correctly and effectively, you need to give it some permissions as follows:
Read and may change all your data on visited websites.
Read all the data you copied and pasted.
# 3. How to use Clipboard History Pro on a web browser
After installation is complete, you will see the icon of this Clipboard History Pro utility is in green banana as shown below. And the number represents the amount of content you've just made Copy and Cut
Note that it will collect both in Google Chrome browser and other 3rd party software. For example, when you work on Notepad ++, Microsoft Word, Excel .... That is why we have to grant the above two rights to it.
You can click on that icon to see what the extension has collected.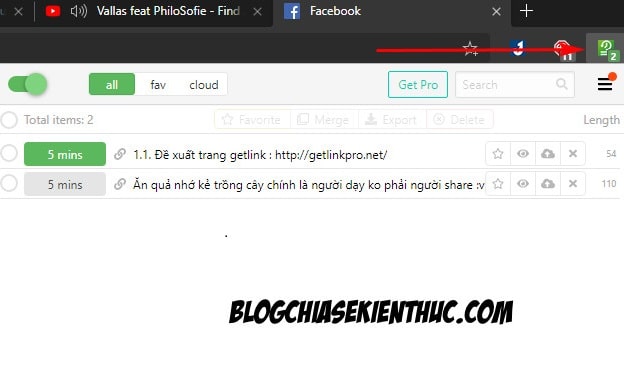 Clipboard collected content will be divided into 3 categories (corresponding to 3 tabs):
All (All): It means that it contains all the content that you have manipulated Copy or Cut before that, all will automatically fly here
Fav (Preferred): The text that you click on the star (the content you consider important and want to store for long), it will go to this section of Fav. Items that have been marked as Favorite will not be deleted.
Cloud (Save on cloud): Save online, you can click the image button upload next to the content is okay
The function of the buttons next to me has already been annotated in the image. Number
mins
Next to it is the time from when you copy the content, until the moment you open the playback utility. Part
Length
is the length of the content you copied.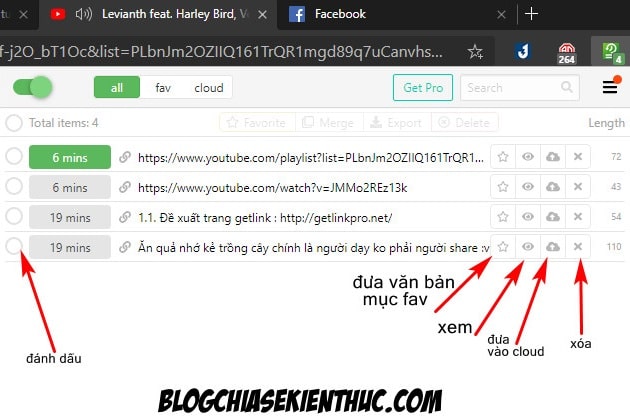 When you click
Child icon
eyes to see the full content that you have copied, you can do other things like delete, edit content, where you copied it from, which website, add tags, put in Favorites, customize font size ...
Specifically, you see the picture below.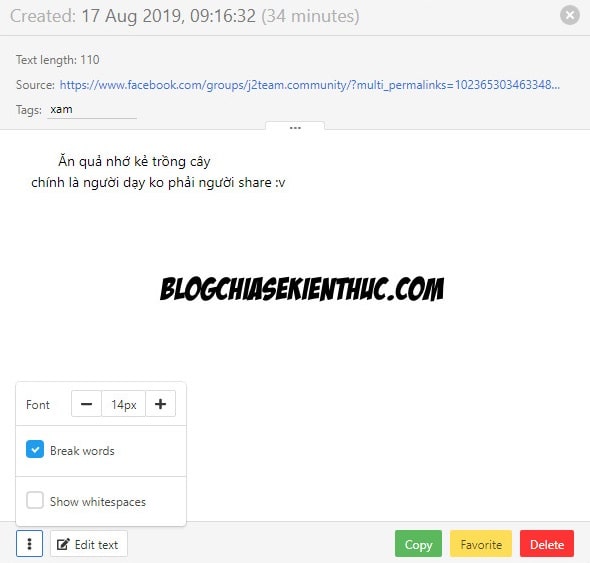 In addition, you will have options with lots of content at the same time as included in the section
Favorite
,
Merge
(want to combine must choose 2 or more),
Export
- to export the backup file (JSON, CSV) ... and finally
Delete
is to delete the highlighted content.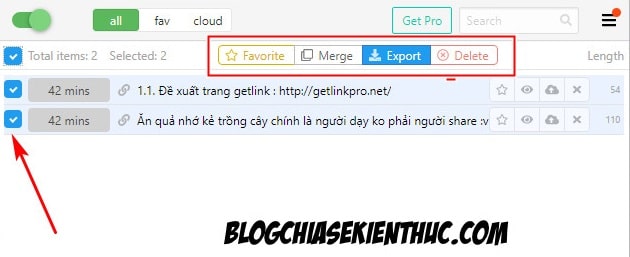 To include the content, you need to select 2 or more items => and then click the button
Merge
in the row above.
You click the button
Merge
green again to perform the pooling, the other
Using Delimiter
I don't know what it is, you can try it out!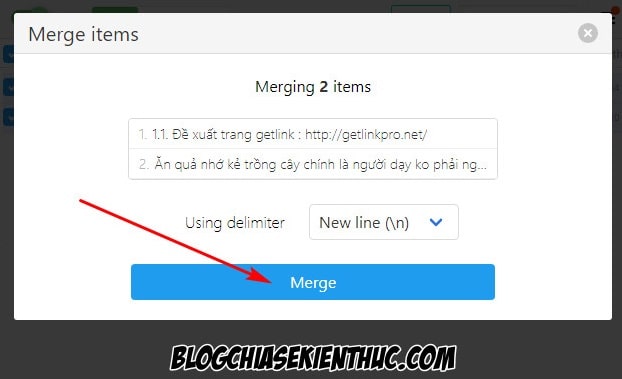 Now to backup, export data in this utility, please click on all the content or the ones you want to backup => then click
Export
.
Then select the type of file you want to export as Backup file, JSON, Plain Text and CSV => then this backup file will be automatically downloaded.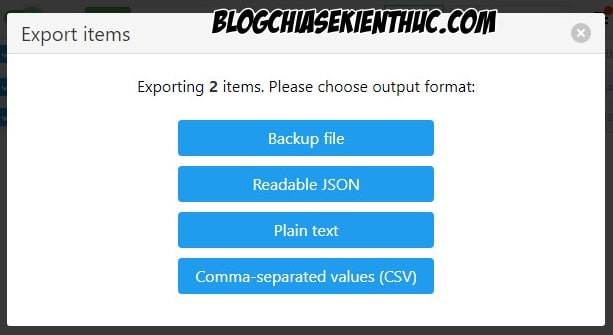 In addition to the Free features that I just mentioned above, then with the PRO version you get
Clipboard Widget
- function that helps you to paste multiple content at the same time very quickly.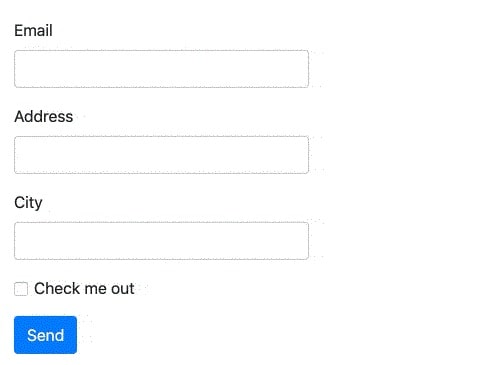 After the content has been put on the clipboard, to use it, open up the utility and click on the content you want to copy, when you see the word
copied
The green light will copy successfully 😀
Now go back to where you want to Paste => and then paste it (CTRL + V).

In addition to the above, an even faster way is to use the Right-click Menu, right-click where you want to paste => select to
Clipboard History Pro
=> and select the content you want to paste.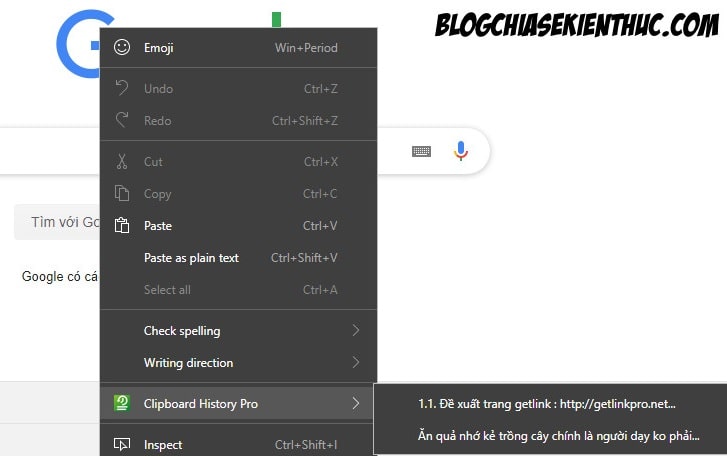 # 4. Some basic settings for Clipboard History Pro
Clipboard History Pro also provides you with a few basic settings, which you can open by clicking
3 dash sign
=> and select
Options & Backup
.
4.1. Store & Auto-cleaning filter (Store and automatically clean the filter)
: We have the following options:
Remove items older than: This utility will automatically delete old, more than 1 week old documents. Of course you can change the auto-delete time if you like.
Maximum number of stored items: You can set the maximum number of archives on the widget (the default is 150).
Do not save text bigger than: Limit storage according to the length of the content. Thereby, you can set the utility not to save documents with more than 5000 characters, of course you can change this number.
4.2. Behavior (Behavior)
: You just click the option to change.
Show number of clipboard items on the extension icon: Shows the number of clipboard items on the extension icon. If you no longer want it to be visible, turn this feature off.
Context menu mode: Context menu mode. Setup, select components shown on the right-click menu. If you do not want to use it, select Disabled but I think it should not be turned off 😀
Default view mode : The default view. You can select the default display item in the pop-up interface (default is All - show all).
4.3. Backup
: Click Save backup file to backup the whole document in json format.
4.4. Restore
: When you need to restore data on a computer or other device => you click Import backup file to select the backup file (json format) to restore or continue using.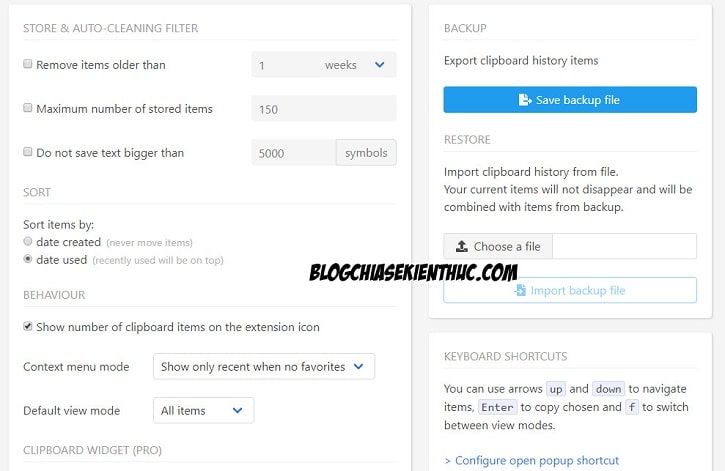 # 5. Epilogue
So I have very detailed instructions for you how to use the Clipboard History Pro extension to
Managing copy and paste in web browser
Alright then.
This is a really great utility, it is much more useful than the Clipboard History feature available in Windows 10.
And if you can afford to use the PRO version of this utility, there are even more great features. But I think for ordinary users, the FREE version is already too 😛
If you find it good, don't forget to share it with friends and relatives. Good luck !
CTV: Nguyen Thanh Tung - Blogchiasekienthuc.com
Note:
Was this article helpful to you? Do not forget to rate the article, like and share it with your friends and relatives!