This is a detailed guide to optimize Google Adsense ads on websites or blogs to increase Adsense income and still comply with Google policies.
This article is in the series of making money with Google Adsense.
Hello bloggers or website owners who are making money with Google Adsense ads!
I realize that many of you are interested in optimizing Adsense ads.
Therefore, I want to dedicate this article to share my personal experiences to help you increase your revenue by optimizing how to place Adsense ads on your website or blog.
First, I want to show the results of income comparison within a week before and after optimizing Adsense on a website of cosmetic and beauty market in Vietnam.
This website has about 1300-1500 page views every day.
The income from Adsense is just extra for fun to pay for renting a domain & hosting, I mainly make
affiliate
money
from this website.
This is a week's revenue from Google Adsense without optimizing how to place ads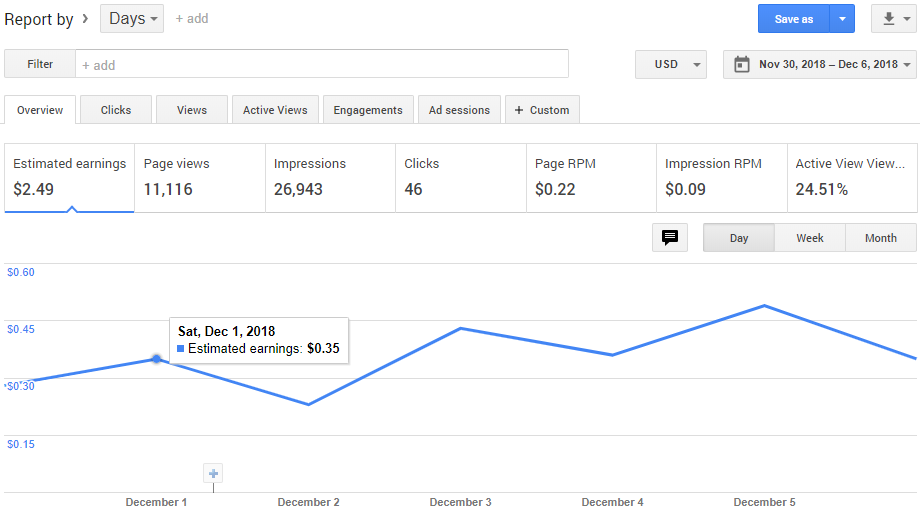 This is the income for a week after I made the optimal Adsense advertising.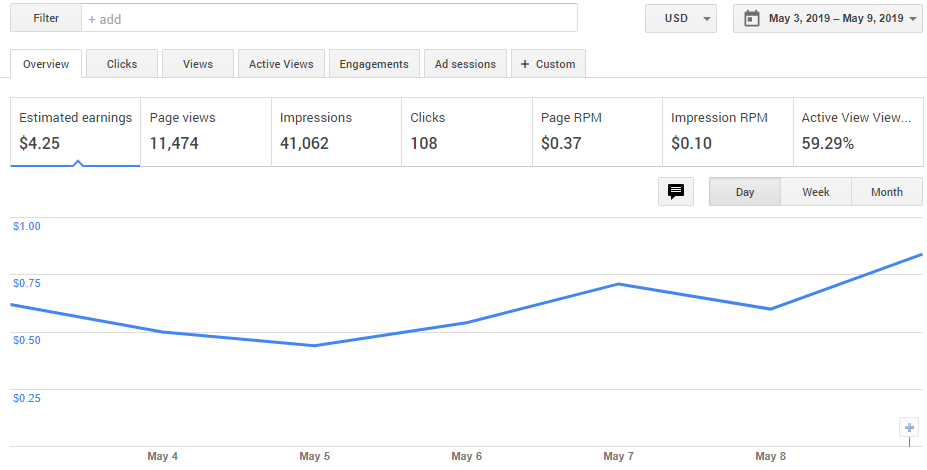 The amount of earnings for a week has increased from $ 2.49 to $ 4.25, which is a 70% increase after optimizing ad placement!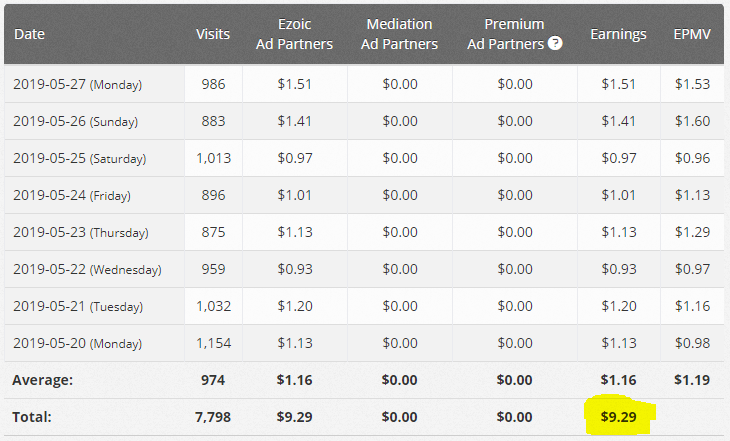 Income in a week also $ 9.29, doubled compared to Google Adsense has optimized, even reduced traffic to only 1000 page views a day (due to testing).
This is the income from Ezoic, the best alternative advertising network Google Adsense that I am testing for the website above.
If you still love Google Adsense, then come back to this article to start optimizing it according to the following guidelines.
1. Use Auto Ads
If you read the article about Google Adsense years ago, you will encounter tips such as choosing a mixed, supplemented or contrast advertising style;
should choose ad size 300 × 250, then should choose how many ads on a page bla, bla ...
Google Adsense has recently launched Auto ads.
I tested and compared to the manual optimization, Auto ads still give the best revenue, while ensuring compliance with Google policies.
Auto ads are a type of automated ads created by Google, including a combination of ads such as Display ads, In-feed ads, In-article ads and Link ads.
You only need to insert the code once for the website, everything else Adsense will take care of.
Google Adsense will automatically analyze each page on the website, the system will automatically test and place the ad type, the most suitable ad size for each page, automatically select the optimal location and time to appear ads. .
Automatically set the most appropriate number of ads according to the content length, so do not worry Adsense it penalizes for using too many Ads.
Auto Ads uses machine learning technology to automatically perform millions of tests to choose the best ad placement.
That's why I think the time that A / B testing by hand is hard to surpass AI technology.
Therefore, I recommend using Auto Ads.To use Auto Ads, you do the following:
Step 1: Log into Google Adsense then click on

Ads >> Auto ads

on the left menu bar.

Step 2: Then click on the pen icon on the right.
Step 3: enable all 4 types of ads so that Google will work together according to each article and website layout.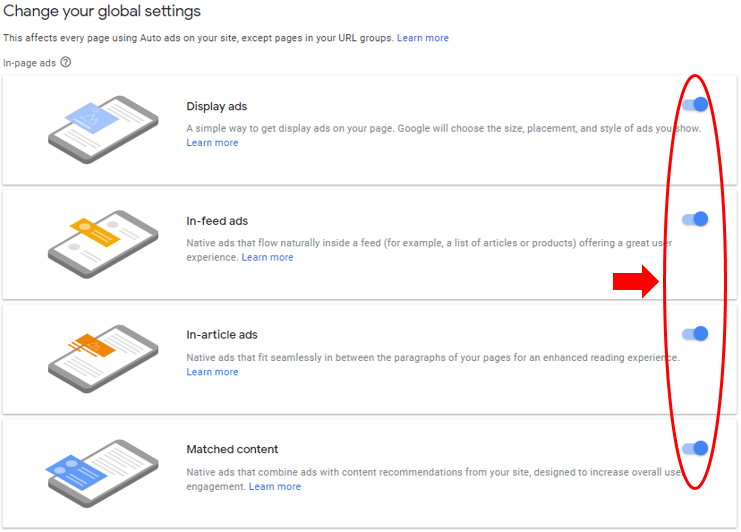 Step 4: The

overlay ads section

should be off, this type of advertising is annoying for users, the popup ad style forces users to close.

Step 5: click

Save

to save the settings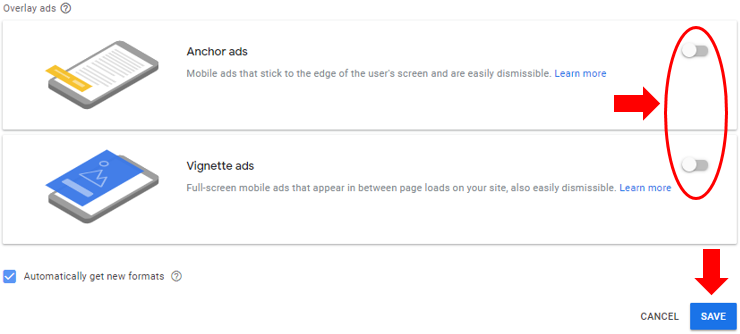 Step 6: Click on

Setup auto ads

, then click on

Copy code snippet

to get Google Adsense code to attach to website.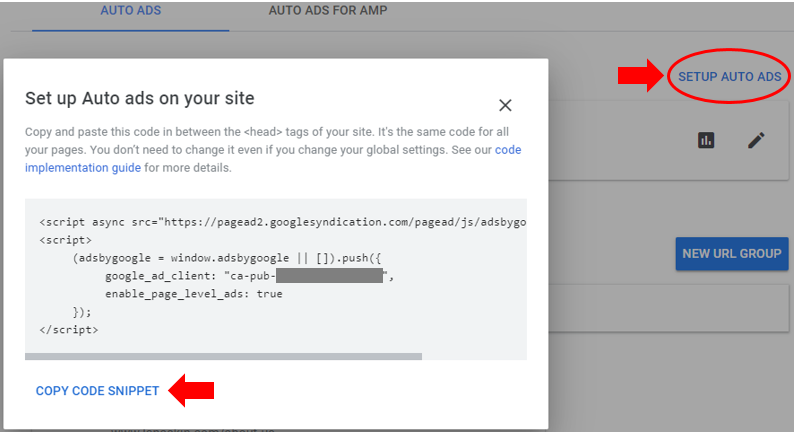 Step 7: This article shows you

how to attach Google Adsense code to your website

for any unknown.
Finished, the rest let him Go automatically optimized!
2. Install Optimization section
Google Adsense will occasionally send recommendations to help you optimize your ads better.
To view these recommendations, go to
Optimization >> Opportunities
on the left menu.

For example, its website Google sends recommendations about
Automatic experiments
(related to running tests) or
Ad sizes
.
So should choose which Google recommends it (with the word recommended), then Google it will automatically test and optimize yourself.
3. Should ads with low CPC be blocked?
One of the most popular tips for Adsense optimization is probably here!
But in my personal opinion, this is the best advice.
I have not tested but do not intend to test.
If you have tested and had real comparison data, you can comment for 500 brothers.
And I temporarily do not believe in this advice because there is no evidence to prove anything.
Then, if an ad wants to show on the website, the advertising provider must compete called bid (bidding), the guy who pays the highest price wins and is allowed to advertise.
So there are blocks of low CPC guys also distorting effect cm at all, the highest CPC guys are currently advertising.
Moreover, there is only one bidder that you block, which means no ads show up on the web, which means you lose revenue always increase cm?
So the ad blocking function of Google Adsense to distort what?
Then mostly they use this function to block competitors, for example your website is dental, but other dentists run ads on Adsense, you will block it.
But maybe you let it advertise on your website?

To use this function, you go to Google Adsense, click on
Blocking controls >> Content >> Ad review center
, then click on the forbidden circle icon to block ads that do not want to show.
If it is an opponent, block it outright!
Haha!
4. Use the optimal theme for Google Adsense
Theme has a very important role in increasing the revenue from advertising or Adsense.
Because the layout of the website, the colors, etc ... greatly affect the clickthrough rate and user experience.
Especially, the theme must be light and be optimized for website to load quickly.
I have tested many themes and found
Astra
theme
is the best result up to now for my websites.
Khanhplus.com is also using the Astra theme.
I find this theme extremely light, designed with focus on optimizing website speed, SEO capabilities and easy to customize the interface.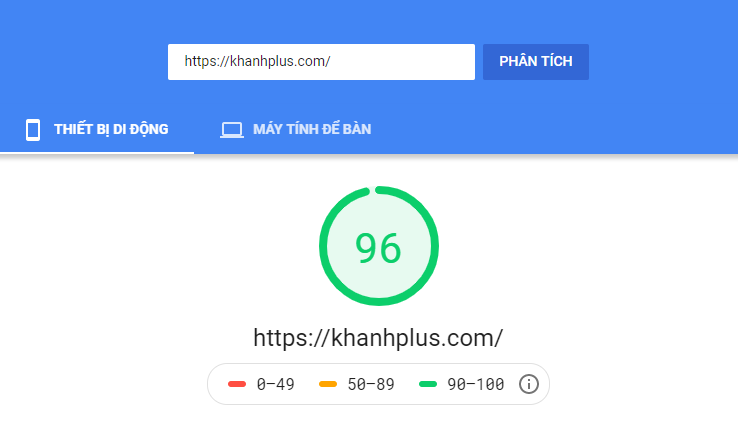 Epilogue
So I have introduced the experience from myself about Adsense ad optimization based on the latest updates of Google Adsense.
These experiences have been drawn from many tests on my websites.
Hopefully, you will maximize your earnings from Google Adsense after applying your tips above.
If I have something wrong, or maybe you have better tips, please comment below for me and 500 other brothers to learn with!
Thanks and see you in the next article.